Valley Centre Office Building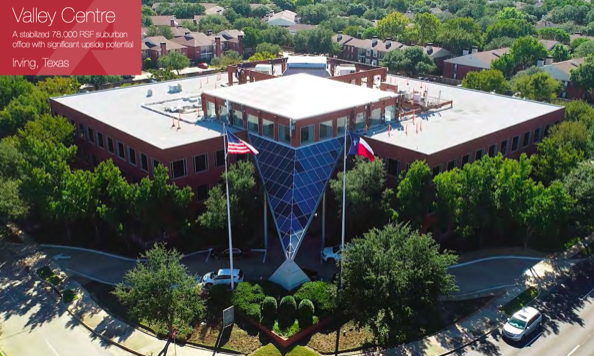 FUTURE HOME OF DARWIN GERMAn REAL ESTATE           AND DARCORP MANAGEMENT GROUP
INVESTMENT DEADLINE - MARCH 15TH 2020
See why we are so excited about our current project - Valley Centre Office Building.
This 77,686 square foot office building is located in Irving,Texas just East of the DFW international airport and is an excellent asset to add to our nearly 2,000 unit multifamily portfolio. The property was built in 1986 and is a stabilized asset (currently 86% occupied) with a value-add component. $950,000 has been budgeted for capital improvements including upgrades to the lobby, common area bathrooms, hallways, landscaping, signage, elevators,interior and exterior lighting, along with repairs to the parking lot.
DGRE is purchasing the property for $9,500,000 which is $122 per square foot. We are finalizing numbers during the due diligence phase of this acquisition and project our all-in (including all costs, fees, and reserves) to be approximately $144 per square foot . "Here are just a few reasons why I like this project….
Value-add component where rental income is 22% lower than the average submarket rental rate.
New home of DGRE corporate headquarters and educational facility.
Market - Dallas. Ft. Worth. 4th largest market in the U.S. with just over 7.2 million population. PriceWaterHouseCooper's emerging trends in real estate publication ranked DFW as the top market in the U.S for overall real estate prospects. Future population growth within 3 miles of the property is projected to be 5.54% over the next 5 years.
The current rent schedule allows for additional upside (see breakdown below)
Office suite = $540 per unit or $3.32/sf increase
Executive suite = $47 per unit or $2.67/sf increase
5 year pro forma estimate of 
16.3

%

per year average return to investors and 82% total return on investment.
Estimated Closing Date: March 23, 2020
DGRE will raise $4.15MM and has tremendous interest from investors with funds ready to be reallocated from the sale of both Sunset Heights and Las Lomas. We are targeting a minimum investment of $25,000 to achieve the projected number of partners in this project per SEC guidelines. IRA funds can be used to invest but we our capping that amount at $1MM. I want to have room for anyone that wants to invest so please let David know your monetary interest and whether it will be CASH or IRA funds for this new opportunity
What Happens Next?
First of all, Congratulations to those partners that have decided to reinvest sale proceeds from Sunset Heights or Las Lomas. The key to passive investing is growing your capital to a point where the interest is more than enough to live a comfortable retirement and never touch the principle amount of capital.
Week of February 17th - PPMs distributed (Minimum investment $25,000)
* This deal is for

ACCREDITED INVESTORS ONLY
If you have additional questions about participating, contact
David Tuttle - 817-917-0436 david@darwingerman.com
Thank you!
Darwin